Dedicated to proposals for change in ocean policy and action worldwide, WORLD OCEAN FORUM is linking unexpected people with unexpected ideas and offering a knowledgeable outlet for research, opinion and storytelling.
To inquire about becoming a contributing writer, or to contribute to our Solutions Within Reach series, please contact us at director@thew2o.net.
A Solution Within Reach:
Aquaponics by Christopher Williams
A Solution within Reach: The Civilian Conservation Corps by Paul Baisich
Solutions Within Reach
by the World Ocean Forum
Breaking Down the Blue Economy by John Bohorquez
Why We Need a New, Enforceable Climate Change Treaty by Linda Roland Danil
Will Seabed Mining Delay the Discovery of New Vaccines?
by Nishan Degnarain
A Blue Renaissance:
The Value of Ecosystem Analysis in a Post-Covid World
by Peter Neill
The 8 Million Species
We Don't Know
by E.O. Wilson
Will the Siren Call of the Blue Economy Lure Us to Our Demise?
by Tundi Agardy
Building Bridges
by Thor Sigfusson
Iceland Ocean Cluster
From Fear to Triumph:
Diving with Polar Bears
by Amos Nachoum

Obituary for an Arctic River
by Mia Bennett

A Stunning Art Installation Showing Projected Sea Level Rise
by Pekka Niittyvirta and Timo Aho

Is a Retreating Glacier on Your Bucket List?
by Mia Bennett
Why Do Some People
Become Citizen Activists?
by Yale Climate
Connection contributors
Treasures of the Deep
by Doug Struck
Pew Charitable Trusts
Revealed: Meet the
Millionaires Hoarding Fishing Rights in the
U.K. by Crispin Dowler
The Salmon Nursery
by David Wolman
Sharks & Coffee
by Doug Woodring
Ocean Recovery Alliance
Deep Sea Mining Update
part two
by Peter Neill
What Do Single Use Plastics
Say About Your Business?
by Doug Woodring
Images

from a

Warming
Planet. A photo essay
by Ashley Cooper
Deep Sea Mining Update
part one
by Peter Neill
Carbon Offsets for a
Sustainable Future
UCapture & South Pole
Why We Must Think
Bigger to Protect the World's Water
by Guilio Boccaletti,
The Nature Conservancy
Can Man-Made Floating Cities Save the Ocean?
Seasteading Floating City Project
by Joe Quirk
How Data Can Heal Our Oceans
by Nishan Degnarain and Steve Adler, World Economic Forum
Sustainability and the
Blue Economy
by Peter Neill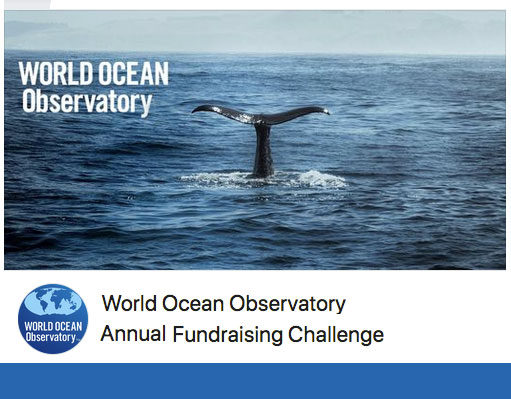 We have a dollar-for-dollar
matching gift opportunity this year:
every dollar raised up to $20,000 between
now and December 31st
will be matched, doubling your impact!
You can give in two ways:
1. Donate via Paypal
2. Give through our Facebook Fundraiser
WORLD OCEAN EXPLORER 2020
With a game capable of reaching a global audience, WORLD OCEAN EXPLORER can expand interest in ocean issues and habitats, and excite students about the infinite possibilities associated with ocean exploration. LEARN MORE.